Dallas County, Iowa and Some Pitfalls of Mapping Demographic Change
Introduction
Some time ago, I noticed that Dallas County, Iowa had the greatest increase of any large county in the country in percentage of residents 25 years and older having at least a bachelor's degree.
I use "large county", incidentally, in the sense of being one of the 814 counties with an ACS 1-year estimate (although the Census tract maps use 5-year estimates), but these cover about 84% of the U.S. population.
Dallas County--a suburban and rural county immediately west of Polk County (Des Moines) which has the rare distinction of voting Mondale/McCain, as Pete Helgason pointed out to me--went from having 26.8% of residents with at least a bachelor's degree to 42.6% (1-year estimate) or 42.1% (5-year estimate)--either way, an increase of more than 15 points.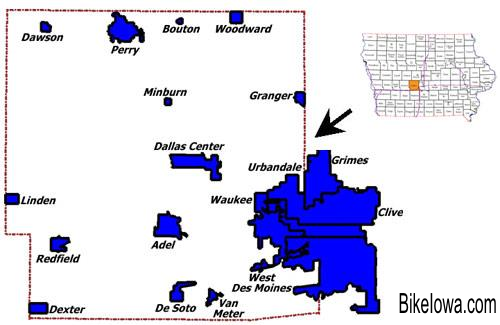 (Thanks to BikeIowa for that map.)
That's higher than the District of Columbia (second on the list, +13.9% from 39.1% to 53%). I decided I wanted a more granular look at this remarkable demographic shift. But long story short? Make sure you map change in total population.
Note: When I say 2012, below, take it to mean "from 2012 5-year estimates".
First Map: Change Within Tracts
My first approach was the same as the one I used in my "Where Has New York City Changed In The Last 10 Years?" post: I combined 2000 and 2010 Census tracts into comparable clusters using Census tract relationship files, and made a map similar to the following. Red tract clusters had increases in percent with a bachelor's degree, blue tract clusters had decreases: